Share:
The Ultimate Utah Adventure - Red Rock Golf Trail in St. George a Year-Round Winner
By Glen Turk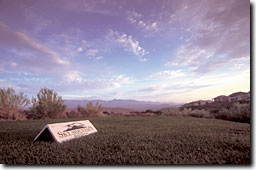 It was the middle of December when Midwest Golfing Magazine stalwart Kevin Packard called me up with an interesting proposition. He asked me if I'd like to go on a golf trip to Utah in January. After a five second pause for effect, I blurted out "Utah, don't they have snow there in January?" Kevin quickly chastised me and said the place you're going to is only 120 miles northeast of Las Vegas near the Arizona border. I quickly grabbed an atlas and confirmed that Kevin indeed was correct and that St.George, Utah is even farther south than San Francisco and Kansas City, two places I know you can golf in January.

So like any intrepid reporter would do, I punched in three w's followed by redrockgolftrail.com and got the lowdown. I was amazed to find that the Red Rock Golf Trail features eight courses all within a 15 mile radius. And then in smaller print near the middle of the page, the website gave me the confirmation I had craved.

With blue skies and very little wind, winter daytime temperatures are generally in the 55-to-65 degree range making conditions ideal for your group's golf getaway to the year-round golf capital of Utah.

So Kevin wasn't pulling my chain after all in an attempt to send me to freeze in Utah. I honestly thought he was trying to even the score after I wrote last year that his swing looked like a man who knew he was double-parked. So the moral of the story is always trust Kevin Packard and never get Utah confused with Idaho again.

The key to the St. George experience is it's proximity to Vegas, Los Angeles, and Salt Lake City -- three major destinations within an hour and a half by car or plane. Secondly, the Red Rock Golf Trail has done an incredible job of marketing with local businesses to promote their stay and play packages. No less than six first-class hotels are available for golfers during their stay. I believe I stayed at the Taj Mahal of the group - The Courtyard by Marriot, perfectly located between all courses. From a better work station than the one I have at home, to their every morning all-you-can-eat breakfast buffet, the Courtyard by Marriot is more than just a room, it's a home away from home. Match first class accommodations with a formidable list of area activities located on their website, and there's a good bet you'll run out of daylight before things to do while in St. George.


Day One - Sky Mountain GC & Coral Canyon

The St. George golfing adventure started with an incredible round at Sky Mountain GC, a city-owned and operated gem that is just far enough off the beaten path to be the most under rated course of the Red Rock Golf Trail. The par-72, 6383 yard layout borders the Virgin River and features three of the finest finishing holes the state has to offer. And here's the best part - at no time during the year will you ever pay more than $54 per round at Sky Mountain. That's municipal golf at its best!

The back nine at Sky Mountain in my humble opinion is superior to the front nine based upon the inordinate amount of stunning views and majestic vistas the nine holes provide. The par-4, 408 yard 14th takes advantage of the snow-covered Pine Valley Mountains in the distance to elicit a memorable tee shot. And then there are the big finishing three -- holes 16, 17, and 18. Of the trio, the 383 yard, par-4 17th gets Head Golf Professional Curtis Peterson's vote. "It's a lay-up tee shot with out of bounds left and desert right plus it's a really good-looking shot from the tee box. No matter where you are on 17 you'll find a pretty view," said Peterson.

Your round winds up with a gorgeous 485 yard par-5 that's downhill from a tee box so precarious they had to install railings!! That alone should tell you you're at the edge of the world as we know it, but I felt fine. If only they could have built a hole in the canyon to the right of the 18th fairway, it would be a sight right out of Indiana Jones and the Last Crusade, whose opening scene oh by the way was set in Utah, 1912. But what they did construct is stellar: a downhill approach with an out-of-this-world view. For more information on Sky Mountain, call their pro shop at (435) 635-7888.

Then it was off to Coral Canyon, a Keith Foster design that blew my mind. Like Sky Mountain, the 7070 yard track is set inside of a residential community, although the property is so well designed, you'd never know it. The par-72 layout is tucked in a valley, yet features wild elevation changes throughout. Case in point, the flowing 525 yard opening par-5. Your drive must be threaded in between imposing bunkers and then it's back uphill to a large, undulating green. In a unique design feature, the second hole is also a par-5, and then you won't see another one until the 593 yard 14th. The back nine is also slightly different than most, as it consists of a trio of par-3's, par-4's, and par-5's.

The par-3, 163 yard 6th is an incredible hole from the Tournament tees, and a fun test from the rest. The Red Rock Golf Trail brochure hits it on the head, describing the hole as "being dropped into the natural red rock outcroppings." It's basically ravine then green on this beautiful example of what Utah has to offer. Make sure you look above the cliff that surrounds the putting surface as I swear Mr. Slate built a replica of Fred Flinstone's house some 20 feet above.

Like Sky Mountain in the morning, I also felt Coral Canyon's back nine was it's signature nine. The sharp contrast of green grass meeting red rocks, against a blue sky just seemed more vivid on the back nine due to an epic collection of holes. As you close out your round, you'll realize Coral Canyon is the perfect match play layout, with the final five holes measuring over 2300 yards if playing the tips. Three par-5's in five holes play between 528 yards and 593 yards, while the lone par four measures 488 yards and the single par-3 plays at 215 yards. The 488 yard 15th is the number one handicap hole due to a 230 yard forced carry over a gigantic wash. The term wash was unknown to me, but by definition it is a natural drainage for water that falls in higher elevations.

Finally, make sure you get to Coral Canyon early and take advantage of their elegant pro shop, delectable restaurant, and first class practice amenities. For more information on Coral Canyon, visit www.coralcanyongolf.com or call (435) 688-1700.

Day Two - SunRiver & Nicklaus Golf Academy at The Ledges

Day two featured a perfect Utah Visitor's Bureau winter day (highs in the 60's with no wind and plenty of sun) and a great time at SunRiver with a real cool host, Neil Economy. All I've been hearing is that our poor economy is leading to lower interest rates, but this Economy gained our interest from the start. Their brand new state-of-the-art clubhouse wowed me immediately and then I realized it was a perfect complement to a highly enjoyable course. I was beginning to sense a theme here, as again the front nine at SunRiver serves as a nice warm-up while the back nine is stunning from the 10th tee to the 18th green. Neil Economy elaborates from there: "The back nine features holes that wind through the Atkinville Wash, have some elevation changes, undulating greens and large, deep sand traps. Navigating the wash can be difficult at times especially on # 13, which crosses the wash twice as you play the hole. Depending on the tees you play, an accurate 250 to 180 yard drive is necessary in order to have a 150 yard approach shot across the wash to the green," stated Economy.

As Neil mentioned, the 401 yard 13th is SunRiver's signature hole and one of the best strategic holes I've played in a long time. I feel bad for the poor folks that built homes right on my intended line toward the green, with the key word being "intended." Fortunately for me, my drive found dry land and not the wash that separates fairway from green. Two holes later, the 531 yard 15th requires a 210 yard forced carry over another perfectly placed wash. The hole then opens up from there and should elicit a great birdie chance if played properly.

And last but certainly not least, the cat's meow, the 426 yard par-4 18th. A 75 foot rock ledge borders the entire right side of the hole and presents a stunning view of 30 plus high-profile homes. Plus, as a bonus, a view of SunRiver's 6000 square foot, brand new clubhouse that features the Riverwalk Grill. For more information on SunRiver, check out www.sunrivergolf.com or call them toll free at (877) 986-0131.

Day Three - Sunbrook Golf Club

The Red Rock Golf Trail's diversity struck again with a trip to the western side of St. George and a round at Sunbrook Golf Club. I could instantly tell why GolfWeek Magazine named it one of Utah's top 5 courses in their 2007-08 review. Talk about your three different nines - The Pointe takes golfers on a thrill-a-minute rollercoaster ride overlooking the city below, while the Woodbridge nine features Cottonwood and Ash trees and the course's signature island par-3, while the Blackrock nine is less severe than the previous two, yet just as impressive.

Reed McArthur has been SunBrook's PGA Professional from the start and has always realized the property's power. "We have been very fortunate to garner some nice awards from Golf Magazine, Golf Digest and GolfWeek and we have always been rated in the top 5 in the state of places to play. Most of the compliments we receive are about the quality of our greens and our beautiful fairways and views. Plus, all 27 holes are completely different and our patrons have the ability to play 27 holes for the cost of what some of the others are charging for 18," said McArthur.

The conditioning at Sunbrook is exemplary, especially given the course's elevation changes and less than favorable growing conditions. The finished product really speaks to the quality of their grounds crew. Finally, Sunbrook is one of the very few courses you'll play where you really have no idea what's coming around the next rise, fall, or landing area. Make sure to assess the shape of your game and choose the proper tee box at Sunbrook, as the setting alone should spur you on to a great score. For more information, call their pro shop at (435) 634-5866.


Day Four - The Ledges

Matt Dye, the nephew of the legendary Pete Dye, was clearly at the top of his game when he designed The Ledges. The 7145 yard championship-caliber layout is only 10 minutes north of St. George, but is far enough away to feel miles apart from any other course on the Red Rock Golf Trail. In the February 2008 issue of Golf Digest, The Ledges was rated the fifth best new course in America with green fees over $75. The highest posted rates at the course is $110 for 18 with cart and range balls - a figure they could easily double and not hear any groans at the pro shop, the course is that stunning!

What clearly sets the Ledges apart from the competition is the dichotomy between the links style front nine and the cavernous, elevation-laden back nine. It is extremely rare to find a course that handles both disciplines so effortlessly, but the Ledges pulls it off with style. The 3637 yard front nine is a bomber's paradise, with nary a hazard in your way. Wide landing areas and the ability to run the ball up on to the green are hallmarks of links-style golf as well as an innocuous display of rough. The front nine's lone defense, other than my infantile golf swing, is the wind. Usually not a factor, the day I played the God's were angry, sending occasional 40 m.p.h. gusts my way.

The back nine is a remarkable compilation of views and vistas, with each subsequent hole building off the last to form a true golf adventure. Numerous times during the nine I felt I was in the middle of a National Park that just happened to have a golf course. I have determined my two favorite places in 2008 will be anywhere on The Ledges' back nine and at the head of any buffet line - the course and my appetite are that exemplary.

If I had to choose the two best of the back they'd be the 320 yard, par-4 15th and the 600 yard, par-5 16th. Oh how I'd love to see Tiger Woods try and drive the 15th as its all carry due to a sinister wash some 65 yards in front of the green. The putting surface then goes back up the slope and is the dictionary definition of pernicious - or wickedly evil. The day I was there featured the most ridiculous pin placement this side of the time I played the 17th at The TPC Sawgrass and they had the pin located in the lake. Aim at the center of the green and let the slope provide a ground draw if you ever see the pin located far left-unless taking Tom Brady's jersey number as a score excites you.

The par-5, 600 yard 16th starts from an elevated tee box to a double tiered fairway that slopes downhill forever. Roughly 75 yards in front of the putting surface starts a mega mogul/bunker configuration that prevents any shots from running up onto the green. The green slopes hard from back to front and make sure you take the time to look at this hole in reverse - a true test you've found a truly memorable golf spot.

Besides the five courses I was fortunate enough to play, the three other courses on the Red Rock Golf Trail are: St. George CC, Dixie Red Hills, and Southgate. On www.redrockgolftrail.com you'll not only find information on all eight courses, but also specifics on their 5 nights lodging/4 rounds promotion starting at only $414 per person based on double occupancy.

So my four-day extravaganza to the Salt Lake State was complete and I'll always be left with the following impressions: St. George is an extremely friendly and clean area, very similar to most cities in the Midwest. Next, the people I spoke to truly valued the opportunity to raise a family there. And certainly not least, The Red Rock Golf Trail is one of America's best kept golfing secrets. Just hopefully not for much longer.
Revised: 11/08/2010 - Article Viewed 30,246 Times
About: Glen Turk
---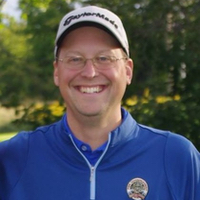 Glen Turk is a Wisconsin native and is the Senior Writer/Editor of Midwest Golfing Magazine. Midwest Golfing Magazine was formerly known as Pub-Links Golfer's Magazine and is a free publication distributed four times per year throughout Wisconsin, Illinois, Michigan, Minnesota, Iowa, Indiana, and Ohio.

His duties at MGM include writing course features, facilitating product testing, and overseeing the overall content and look of the magazine. But clearly his most important task is playing as much golf as his wife allows. Fortunately for him, she plays also and loves out-driving him even with a 60 yard head start.

Glen plays to a 6 handicap but once set a record by having his ball retriever regripped 15 times in one calendar year. It was a December trip to Guam that ultimately did him in. Finally, if you haven't caught on by now, the two most worthy weapons in Glen's writing arsenal are self-deprecating humor and pithy one-liners.

My signature line, "Be A Force on The Course" and now more recently, "Hit 'Em Where They Mow!" can be reused at no charge.

---
More Articles by Glen Turk